Connect with a Global Talent Network Reserved for Technical Leaders like You
Hundreds of clients trust us with their talent search – join them!
Maximize your company's potential with WorkGenius. Our platform connects you with skilled tech freelancers from around the world, hand-picked for their expertise and dedication to delivering top-notch work. Say hello to easy communication, secure payments, and freelance management tools. Join us today and experience the freedom of finding the right freelancer for your company in record time.
How WorkGenius can help you hire the best Developer
1. Define your search
Let us know what roles and skills you are looking for. Need help? Our talent expert will support you.
2. Get matched to our pre-vetted candidates
We will match you to 3-5 candidates.
Availability, skill set and hourly rate are
matched to your requirements.
3. Hire one or more and start working
Once you found your perfect candidate, you can get going – and we take care of the rest.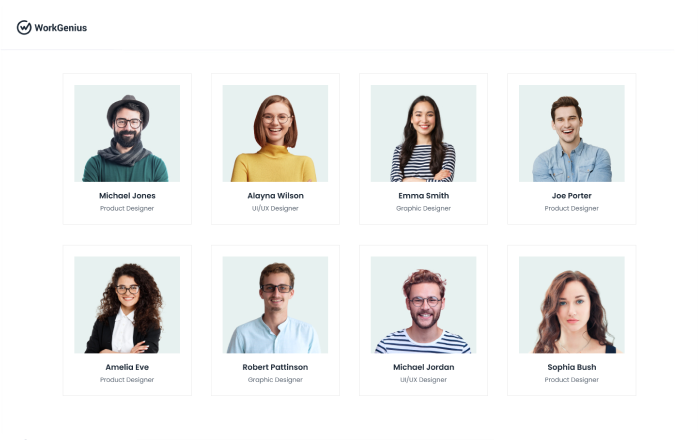 Below are just some of the ways in which we can help you.
Hiring a freelancer can help to extend your team and provide additional expertise and resources without the need for a long-term commitment or the overhead costs of hiring a full-time employee.
Bringing in a freelancer can add missing expertise to your team, allowing you to tackle projects or tasks that require specialized knowledge or skills that may not be available in-house.
Bridge The Gap Between Hires
Freelancers can bridge the gap between hires by providing short-term support during busy periods or when a key team member is absent, ensuring that your projects stay on track and deadlines are met.
Freelancers can help to kick off a project by providing a fresh perspective and new ideas, and by taking on initial tasks such as research or planning, allowing your team to focus on execution.
Clients which already use WorkGenius:
Want to go one step further?
Simplify and streamline your freelancer management
Easy Onboarding and user-friendly interface
Organize your freelance workforce in one place
Consistent and imprehensive invoicing
Global
compliance and legal framework
Manage budgets and create customized reports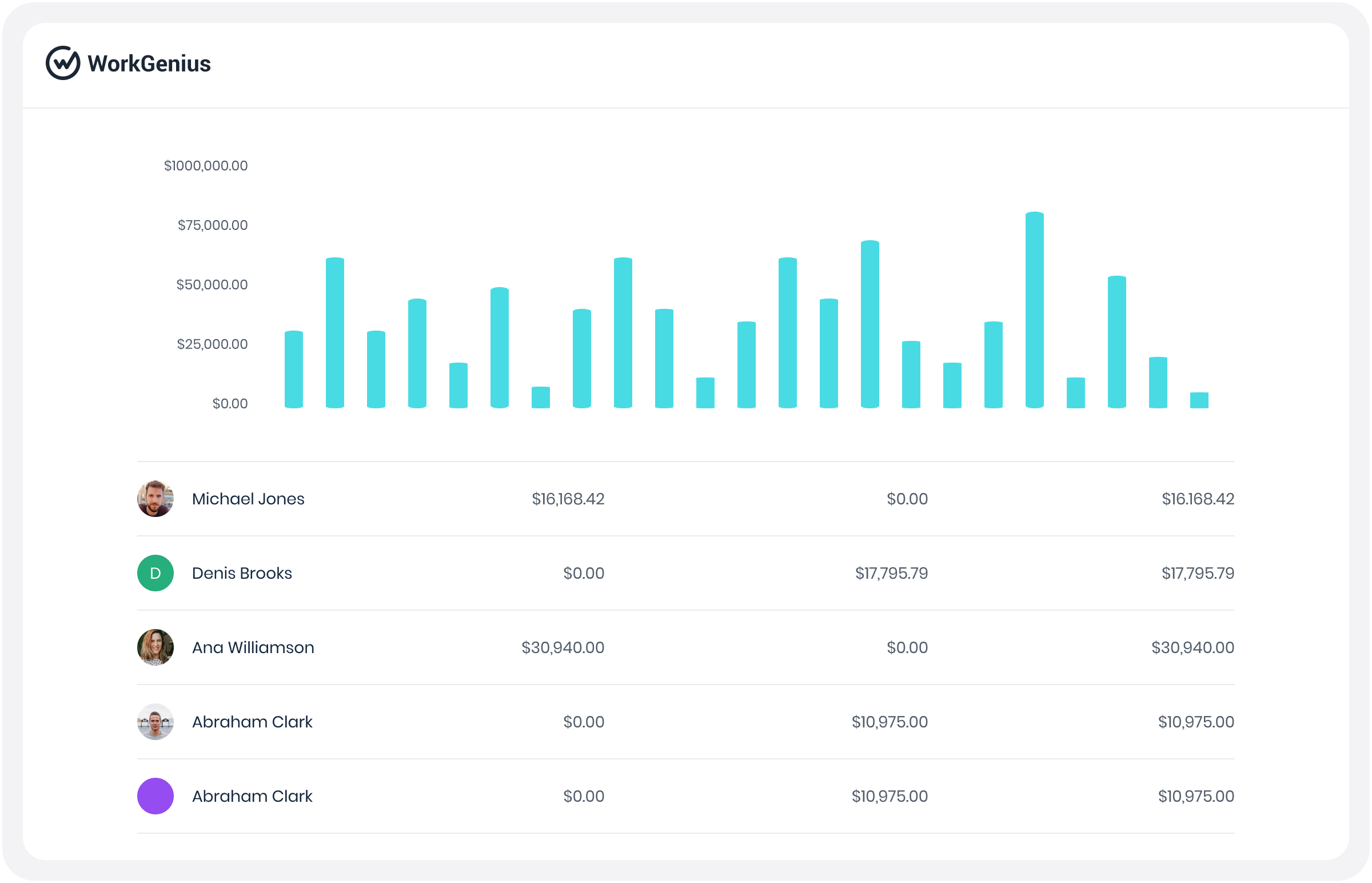 Manage budgets and create customized reports
Looking for a streamlined way to manage your freelancers and their projects? Our platform offers comprehensive reporting, giving you all the key metrics you need to stay on top of your business. But that's not all – we also offer budget management tools and cost center creation, making it easy to keep track of expenses, assign costs, and stay within your budget.
Learn more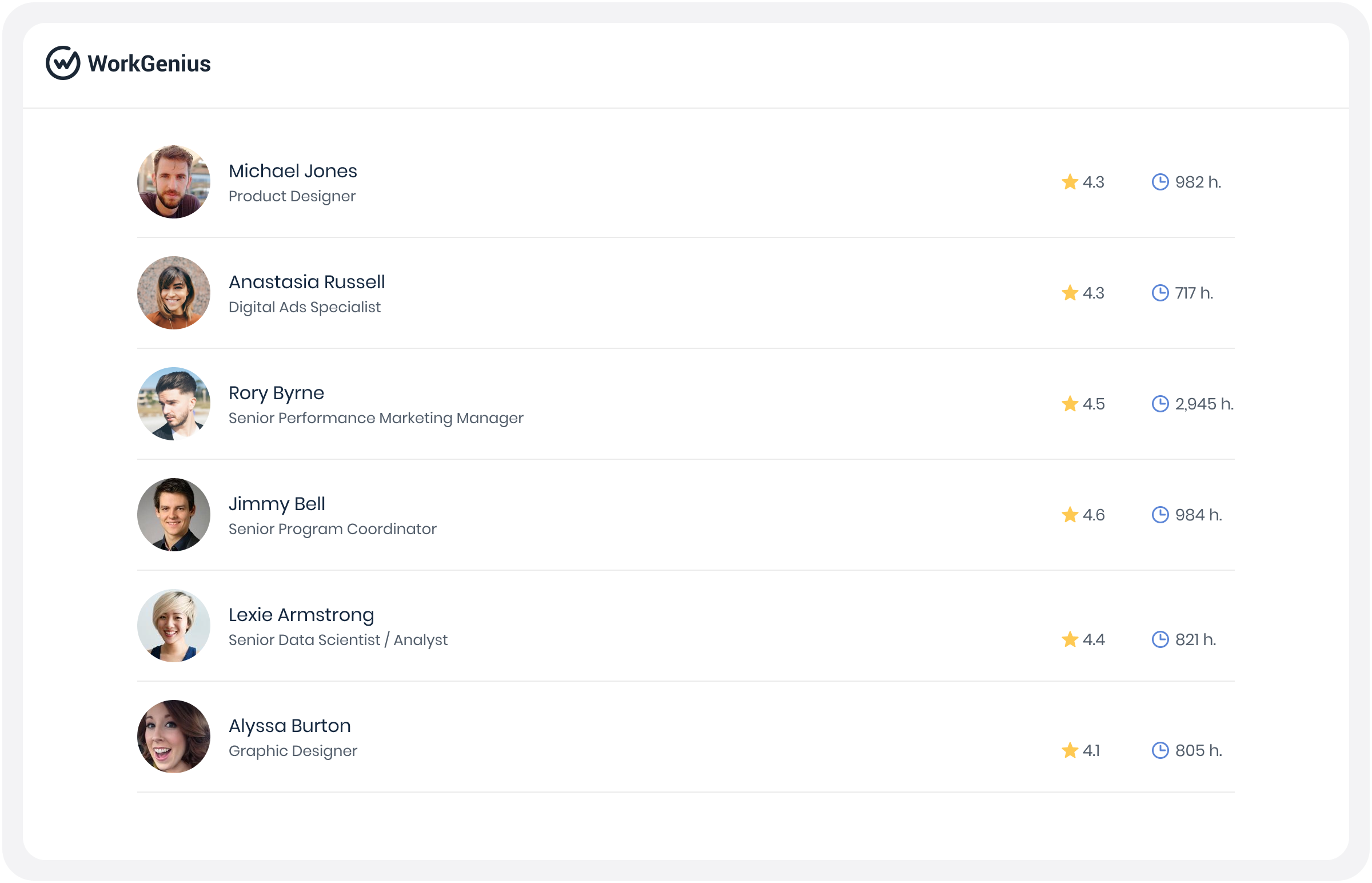 Organize your freelance workforce in one place
Never deal with Excel sheets again! Manage all your freelancers in one place and always have an overview of your contacts, projects, and budgets. Our platform provides a clear activity dashboard, automatic tracking of hours worked, an overview of all freelancer expenses, and full control in every project phase.
Schedule demo
The best candidates in the
world choose WorkGenius to:
Get access to exclusive roles from established businesses
Say goodbye to time-consuming project searches
Focus on the actual work and not admin
Stop chasing payments and get paid fast
Our candidates have previously worked for