Freelancing has become a popular option for both workers and companies, but does it make sense to hire freelancers? There are many considerations for choosing between the two. Let's take a look at what you must consider before deciding.
Freelancing History
Freelancing may be a buzzword now, but it's not new in the employment world. Many professions are already considered freelancers, from the doctors you see for checkups to the accountants that help plan your future.
The word "freelancer" comes from references to the medieval practice of hiring mercenaries to protect assets, i.e., "free lances." They would work for whoever paid them the most, eschewing loyalty in pursuit of freedom and gain (Miriam-Webster Online).
As many as 70% of millennials prefer freelancing to full-time work (Deloitte, 2019), and by 2027, this segment will make up 75% of the workforce. Moreover, according to Inuit, the majority of the US workforce will be freelancing by 2027 (Edelman Intelligence, 2017). Freelancing is growing as concerns about the economy weigh on both employer and employee's minds.
As much as 31% of the workforce is occupied in the gig economy (Anger, 2017). Micro-businesses (i.e., freelance business owners with fewer than five employees) are responsible for 17% of GDP in the United States (Anger, 2017). And up to 94% of workers are open to non-traditional job forms (ManPowerGroup, 2017). With that kind of popularity, freelancing could finally help fill in the skills gap.
FTE Versus Freelance
One of the most significant differences between traditional employment and freelancing is the necessary tax forms. W2 forms are designed for employees and report both yearly compensation and the taxes paid on that compensation. Freelancers receive a 1099 tax form instead, giving a net total of payments given over the past year with no taxes withheld.
FTE stands for "full-time equivalent" and is the ratio of the total number of working hours by the amount of compensation. Full-time employees are equal to one FTE. Even when you have a series of part-time workers, you can use that ratio to designate the full-time equivalent.
FTE encompasses a business's total compensation and hours across full-time, part-time, and contract employees (Business Dictionary, 2019). This ratio is vital as businesses attempt to fill skills gaps while lowering the cost of hiring and training.
Freelance, on the other hand, is a self-employed distinction. Freelancers contract with other businesses to perform services but ultimately remain self-employed rather than under someone else's employment. While their hours and compensation are calculated under FTE, they are not part of the company.
Deciding to Hire a Freelancer
When calculating the cost of hiring a freelancer versus FTE, there are a few things to consider. Let's take a look at what tradition says and a new model that may offer better results.
1) Traditional Freelance Hiring Considerations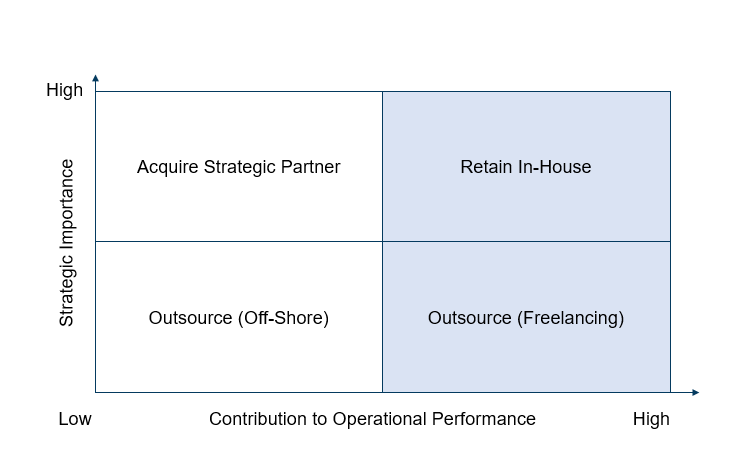 Freelance considerations used to center around the nature of the job performed. Strategic tasks were considered FTE while repetitive isolated tasks fell under the umbrella of freelancing. If the job wasn't central to the operations of the business but needed to happen periodically, that could signal the potential for a freelance hire.
For example, if your company offers managed services and a precise go to market strategy for each new offer is necessary for the continual growth and scale of the company, you'll need a Vice President of Marketing. This position is strategic and integral to business operations. It makes sense to hire a traditional employee for consistency.
Along those same lines, you also need press releases when you do have a new service or offer. Press releases are isolated repetitive tasks and not considered part of integral business operations. You could contract with a freelancer in this case.
2) New Model for Freelance Hiring

This doesn't quite cover all the potential costs of full-time employees, however. A newer way to consider the position type is taking the onboarding time as a decisive factor. Hiring is a complex and expensive process which on average takes around 52 days and costs about $4,000 (Bersin by Deloitte, 2017). This process certainly is worth initiating if the outcome has certain longevity i.e. If the manager plans on keeping someone long-term or just for a specific project. A reliable factor to estimate this longevity is the onboarding.
If a hiring manager is planning on hiring a new data engineer, they will most likely be willing to spend 3 weeks or even more on their onboarding because they want a great impact on this very crucial position. In this case, hiring an FTE is the better option and, with the average tenure in the US being 16 months, probably worth it.
If the need, however, focuses around a short-term project, the hiring manager will be inclined to spend as little time as possible on onboarding the acquired talent. A content writer that is supposed to crank out content once a week shouldn't be on-boarded for longer than one, two days. In this case, it is not worth investing 52 days into finding this person. With the time and cost of hiring an FTE at around $77 per day, you could get a freelancer in place for just $230 instead of $4,000 (Bersin by Deloitte, 2017). Therefore, this position might be ripe for freelance consideration.
Reconsidering Freelancers
Ultimately, the decision to hire freelancers could help solve the skills gap and take advantage of public opinion already shifting that way. As generations in management shift, freelance work has become more common.
43% of companies that hire freelance workers experience massive savings, up to 20% cost savings, and a considerable increase in productivity at a 72% boost (Anger, 2017). Since only about 30% of employees describe themselves as being engaged at work (Gallup Report, 2017), considering flexibility could be a good option for your organization.
Whether you choose an FTE or a freelancer, being open to alternative job positions could set up your organization for lower hiring costs, better productivity, and a decreased skills gap. Consider both the traditional method for freelance work and our new model to ensure you choose the right path.
Disclaimer
The information provided in this blog post is for informational purposes only and not for the purpose of providing legal advice.