How WorkGenius can help you hire
the best WordPress Developer
1. Define your search
Let us know what roles and skills you are looking for. Need help? Our talent expert will support you.
2. Get mateched to our pre-vetted candidates
We will match you to 3-5 candidates.
Availability, skill set and hourly rate are
matched to your requirements.
3. Hire one or more and start working
Once you found your perfect candidate, you can get going – and we take care of the rest.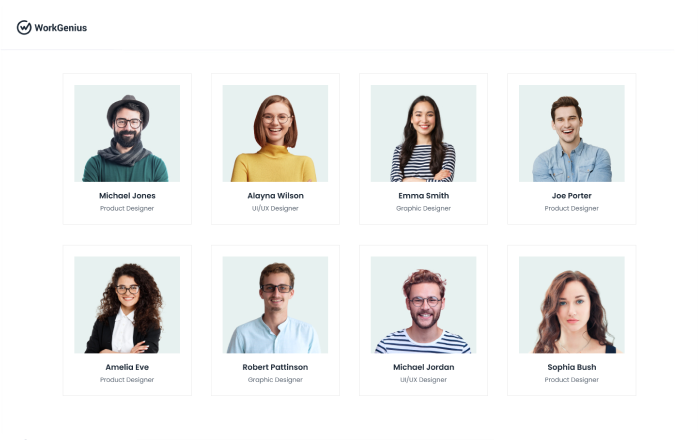 This is what WordPress Developers
have built for other clients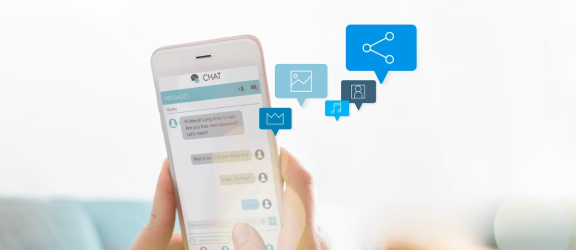 Developed a Business Website
A WordPress Developer built a professional business website for a client. They used WordPress's flexible features to design a responsive website with a blog, product pages, and a contact form. The website effectively increased the client's online presence and customer engagement.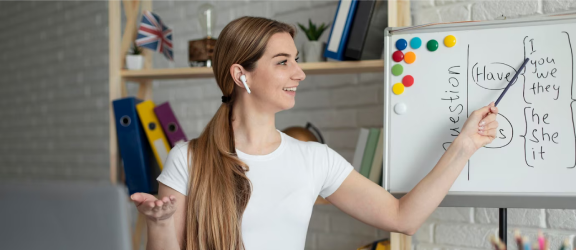 Implemented an E-commerce Store
A WordPress Developer implemented an e-commerce store using WordPress and WooCommerce. They set up product pages, a shopping cart, and secure payment gateways. The e-commerce store boosted the client's online sales and provided customers with a seamless shopping experience.
The best WordPress Freelancers in
the world choose WorkGenius
Get access to exclusive roles from established businesses
Say goodbye to time-consuming project searches
Focus on the actual work and not admin
Stop chasing payments and get paid fast
Our candidates have previously worked for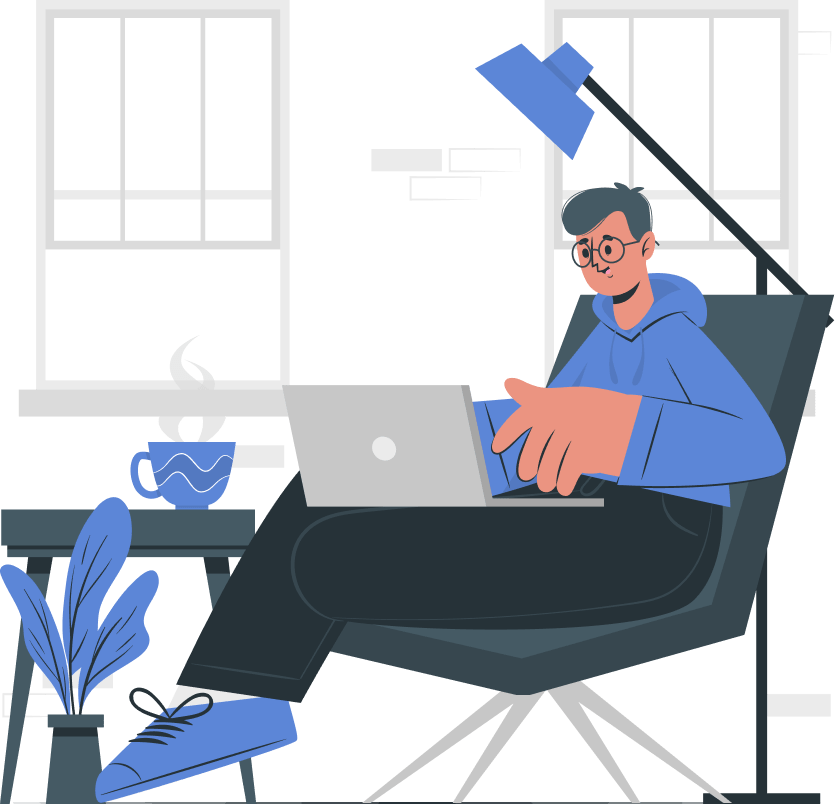 How to hire WordPress Developers? Skills you
should look for when interviewing
a WordPress Developer.
Proficiency with PHP, HTML, CSS, and JavaScript
WordPress Developers should have a deep understanding of PHP, the programming language that WordPress is built on. They should also be proficient in HTML, CSS, and JavaScript to create and customize WordPress themes and plugins.
Understanding of WordPress Core, Themes, and Plugins
WordPress Developers should have a strong understanding of WordPress Core, and how to create and customize themes and plugins. They should be capable of building, customizing, and maintaining WordPress websites, including e-commerce sites with WooCommerce.
Familiarity with MySQL and Database Management
WordPress Developers should be familiar with MySQL, the database system used by WordPress. They should be able to manage databases, write SQL queries, and understand the relationship between WordPress and its underlying database.
Experience with APIs and Integrations
WordPress Developers should have experience working with APIs to integrate third-party services with WordPress. They should be able to use the WordPress REST API to interact with WordPress sites programmatically.
Need help finding a WordPress developer?
Talk to one of our 200 industry experts to get you started
Hiring WordPress Developers
with WorkGenius
What is WordPress?
WordPress is a free and open-source content management system (CMS) based on PHP and MySQL. It is one of the most popular website creation tools around the world and is used to create everything from simple blogs to complex websites. WordPress is highly customizable, thanks to thousands of themes and plugins available for nearly any function or design imaginable. Its user-friendly interface makes it accessible for users of all technical levels.
How can I find the right WordPress developer for my project on WorkGenius?
WorkGenius offers a comprehensive talent-matching system that considers factors like skills, experience, and expertise to connect you with the most suitable WordPress developers for your specific needs. You can also review candidate profiles, portfolios, and ratings to make an informed decision.
What is the typical cost of hiring a WordPress developer through WorkGenius?
The cost of hiring a WordPress developer can vary depending on factors like their experience level, project complexity, and the duration of the project. WorkGenius provides a transparent pricing structure and offers flexible options to accommodate different budgets and project requirements.
Can I hire a WordPress developer for a short-term or one-time project?
Indeed, WorkGenius allows you to engage with WordPress developers for short-term or long-term projects, tailored to your unique requirements. Our platform provides the adaptability to work with freelancers for individual projects or continuous partnerships.
How does WorkGenius ensure the quality of WordPress developers on the platform?
WorkGenius maintains a rigorous vetting process to ensure that only highly skilled and experienced WordPress developers are part of our talent pool. Additionally, we gather client feedback and ratings to continually assess the performance of our freelancers, ensuring you receive top-notch service.
What is WordPress? A comprehensive Overview
In today's digital age, a website is an essential tool for any business or individual looking to establish an online presence. But creating and maintaining a website can be an intimidating task, especially if you're not familiar with coding or web design. This is where WordPress comes in – an open-source content management system (CMS) that allows anyone to create a professional-looking website without extensive technical knowledge. In this article, we'll dive into the basics of WordPress and explore the benefits and latest trends in this popular CMS.
Understanding the Basics of WordPress
At its core, WordPress is a software that allows you to create and manage content on a website. The CMS provides users with a user-friendly platform to build and maintain a website with little technical expertise.
But what exactly is a CMS? CMS stands for Content Management System, which is essentially a software application that allows you to create, manage, and publish digital content, typically on the internet. WordPress is one of the most popular CMS platforms, powering over 40% of all websites on the internet today.
One of the key features of WordPress is its flexibility and scalability for any website. Whether you're creating a blog, an e-commerce site, or a portfolio, WordPress has a wide range of themes and plugins that can help you achieve your desired website style and functionality. Themes are pre-designed templates that you can customize to fit your brand and content, while plugins are add-ons that can add new features and functionality to your website.
WordPress also has a large community of developers who create and share themes and plugins, making it easy to find and install the ones that best suit your needs. And if you can't find what you're looking for, you can always hire a developer to create a custom theme or plugin for you.
Additionally, WordPress websites are mobile responsive, so your site will look great and function properly on any device. With more and more people accessing the internet on their smartphones and tablets, having a mobile-friendly website is crucial for reaching your audience and growing your business.
Another advantage of WordPress is the ease with which it integrates with social media platforms. You can easily share your website's content on social media, or even link your social media feeds directly to your website. This makes it easier for your followers to find and engage with your content, and for you to grow your online presence.
Overall, WordPress is a powerful and versatile CMS platform that can help you create a professional-looking website without needing to know how to code. With its vast library of themes and plugins, mobile responsiveness, and social media integration, WordPress is a great choice for anyone looking to build a website.
Exploring the Benefits of WordPress
WordPress is one of the most popular content management systems (CMS) in the world, and for good reason. It offers a wide range of benefits for website owners, from its vast ecosystem of themes and plugins to its reliability and security.
Endless Customization Possibilities
One of the biggest advantages of WordPress is its vast ecosystem of themes and plugins. Themes are templates that users can install and customize to give their website its desired aesthetic and layout. With over 5,000 themes to choose from, WordPress offers endless possibilities for customizing a website or blog.
Plugins are small software add-ons that can extend or modify the functionality of a website. With over 55,000 plugins to choose from, WordPress offers even more possibilities for customization. Whether you want to add social media sharing buttons, improve your website's SEO, or create a custom contact form, there's a plugin for that.
The community of WordPress developers is constantly creating new themes and plugins, many of which are free or low-cost. This allows users to access a wealth of resources to make their site stand out, without breaking the bank on custom development work.
Reliability and Security
WordPress is a highly reliable and secure platform. The CMS receives regular updates, which helps guard against security threats and ensures that your website is running smoothly. WordPress' open-source nature also means that you can constantly improve and evolve your website by tinkering with code and experimenting with new plugins.
Additionally, WordPress has a large and active community of users and developers who contribute to the platform's ongoing development and support. This means that if you ever have a question or run into an issue with your website, you can easily find help and support from the WordPress community.
User-Friendly Interface
Another benefit of WordPress is its user-friendly interface. The CMS is designed to be easy to use, even for those who have little to no experience with web development. This means that you can create and manage your website without needing to hire a developer or learn complicated coding languages.
WordPress also offers a visual editor, which allows you to create and edit content using a WYSIWYG (What You See Is What You Get) interface. This makes it easy to format text, add images and videos, and create engaging content for your website.
Conclusion
Overall, WordPress is a powerful and versatile CMS that offers a wide range of benefits for website owners. From its endless customization possibilities to its reliability and user-friendly interface, it's no wonder why so many people choose WordPress for their website or blog.
When it comes to the database component of WordPress, it's important to note that it's typically built using MySQL. This is an open-source relational database management system that's widely used across the internet. The database stores all of a website's data, including user information, content, and settings. Without the database, a WordPress website wouldn't be able to function properly.As for the code files, they're written in PHP, a popular server-side scripting language. These files include everything from the core WordPress code to plugins and themes. WordPress is open-source software, which means that anyone can contribute to its development by creating plugins, themes, and even core code modifications.The dashboard is where WordPress users can manage their website's content, theme, and plugins. It's the central hub for all website management tasks and provides users with a user-friendly interface for making changes to their site. The dashboard is also where users can create and edit posts, pages, and other types of content.In terms of architecture, WordPress follows a simple, modular structure. This makes it easy to modify and extend the platform using code, plugins, and themes. The core WordPress code provides a solid foundation for building websites, and plugins and themes can be used to add additional functionality and customization. This modular structure also makes it easy for developers to create custom solutions for clients, as they can build on top of the existing WordPress framework.Overall, WordPress is a powerful and flexible platform that's used by millions of websites around the world. Its simple architecture and modular structure make it easy to use and customize, and its open-source nature means that it's constantly evolving and improving. Whether you're a blogger, business owner, or developer, WordPress has something to offer.
Latest Trends in WordPress
WordPress, the most popular content management system, has been around for more than 17 years now. Over the years, WordPress has been constantly evolving to meet the changing needs and trends in website development. Recently, there has been a growing trend towards using machine learning and artificial intelligence in WordPress development.
Machine learning and artificial intelligence can help improve website functionality and enhance user experience. For example, WordPress can use machine learning algorithms to analyze user behavior and provide personalized content tailored to their interests. This can lead to increased user engagement and more conversions.
Another trend is the increasing use of WordPress as a platform for e-commerce websites. WordPress has always been a popular choice for bloggers and small businesses, but it is now becoming a go-to platform for e-commerce websites as well. This is due to the platform's adaptability and the wide range of e-commerce plugins available for WordPress.
One of the most popular e-commerce plugins for WordPress is WooCommerce. This plugin allows users to easily set up an online store and sell products. WooCommerce has a wide range of features, including support for multiple payment gateways, shipping options, and tax calculations. With WooCommerce, users can also manage their inventory, track sales, and generate reports.
Lastly, WordPress is being increasingly used in the enterprise space. Large businesses are turning to WordPress as an affordable and scalable alternative to proprietary CMS solutions. WordPress can be customized to meet the unique needs of each business, and it can handle large amounts of content and traffic. Additionally, WordPress has a large community of developers and users who can provide support and guidance.
Overall, WordPress continues to be a versatile and adaptable platform that can meet the needs of a wide range of users, from bloggers to large enterprises. As technology continues to evolve, we can expect to see even more exciting developments in WordPress in the years to come.
Conclusion
WordPress is an incredibly versatile and user-friendly content management system that is powering millions of websites across the internet. It is a reliable and scalable platform that can help you achieve your website goals, whether you're looking to create a blog, e-commerce site, or portfolio. With a vast ecosystem of plugins and themes, WordPress offers users endless possibilities for customizing and optimizing their website. Furthermore, WordPress is constantly evolving to reflect the latest trends and technologies in the industry. In short, WordPress is an excellent platform for anyone looking to create a professional-looking website, even without extensive technical knowledge.